Bartle & Gibson Announces New Partnership with Appleton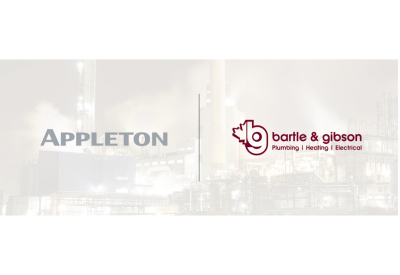 October 13, 2021
Bartle & Gibson Co. Ltd., a Western Canada-based premier plumbing, heating and electrical distributor, proudly announced Friday, October 1, 2021, a new regional partnership with Appleton, electrical solutions for industrial and hazardous environments, across its 31 branches in Western Canada.
The Appleton brand has long been the hallmark for the protection of people and equipment while delivering reliable power. With Appleton's products you can count on certified protection for any environment, from ordinary commercial settings to harsh industrial conditions, in any region of the world. Their fittings, lighting, and power distribution solutions are designed to operate without incident: because failure is not an option.
Appleton's electrical product categories offered through Bartle & Gibson will include the following: distribution equipment, lighting, plug & receptacles, controls, enclosures & junction boxes, fittings, reels & switches, commercial electrical fittings, and ordinary location junction boxes.
Bartle & Gibson Co. Ltd., Now Western Canada's premier plumbing, heating, and electrical distributor, Bartle & Gibson was founded by two Canadian businessmen who wanted to focus on relationships with customers and suppliers. Bartle & Gibson consists of 31 branches spread throughout Western Canada, which are supplied by three main distribution points. The company's continued growth and expansion is due in no small part to its dedication to providing exceptional service to all clients, suppliers, and employees. Bartle & Gibson continues to be the privately owned, 100% Canadian organization that its customers have trusted since 1944.