Ariane Cardinal Discusses Her Journey to Stelpro, Mentorship, and Finding Success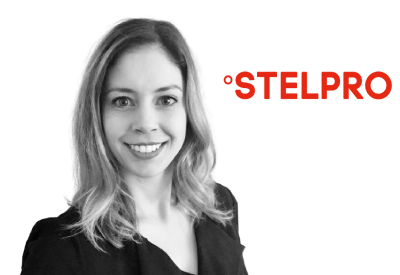 February 2, 2021
By Blake Marchand
Ariane Cardinal is Director of Planning, Purchasing, and Distribution with Stelpro.
Ariane owns a bachelor's degree in engineering, although she said, "I always knew, when I was doing engineering, that I wanted to have a career more oriented towards management."
After earning her degree, she did an internship with a company in the gas industry based out of Paris, France, which is where she was introduced to supply chain management. Ariane noted she was interested in the problem-solving aspects of supply chain, which meshed well with her engineering background. "There are so many opportunities to optimize everything," she said.
Following that internship, she began her career in supply chain management with L'Oreal in the cosmetics industry. "I did production planning, procurement, sub-contracting, logistics, new product launches," she explained of her time with the company.
Having identified a career path, she further specialized by getting her PMP (Project Management Professional Title). After spending 10 years with L'Oreal, she took a position with Stelpro. Being with a multinational corporation like L'Oreal provided her with an interesting outlook. Although Stelpro is a smaller company, its focus on growth presented an interesting challenge for Ariane. One where she could apply her experience with a multinational company, while growing her expertise with the perspective of an agile company like Stelpro.
She began with the company as Planning and Purchasing Director about a year in half ago and more recently was given additional responsibility in managing distribution. "This new role allows me to have a complete overview on our supply chain and work towards offering the best solutions to meet our clients' needs.
"Stelpro has grown significantly throughout the past year and we're now a major player in this industry. This growth has brought a need for more robust processes to ensure that we have smooth operations, and I'm fortunate to be able to participate in implementing good supply chain management practices."
The importance of mentorship
"It's important for me to have a few trustworthy people that I go to for advice. Many different people on different aspects have helped me grow into this position. Whether it's about people management, work/life balance, supply chain management," she said when we asked her about the impact of mentorship on her career. For Ariane, these relationships are about instilling confidence. Both in taking direction as well as initiative. "It's setting up constructive exchanges where we can have trust and collaboration."
Growing into a leadership position, she said, "Now, I also try to share some of my knowledge with those who are interested in my experience."
Leadership and finding success
Ariane also expressed a similar philosophy when it comes to leadership, one that prioritizes collaboration and respect:
"My focus is to keep a clear vision for Stelpro's supply chain and make sure that it's understood by the team; that it inspires them, and that it keeps them engaged to support the vision."
"I think we all contribute to that same goal, so everyone needs to feel a sense of purpose in the contribution they provide to Stelpro and that's what helps the team be engaged and successful. I also take care to ensure the team is supporting Stelpro's values, we work with respect, collaboration, passion, excellence and creativity."
When it comes to herself, Ariane said, "I try to challenge myself to acquire more knowledge on the electrical heating industry, because it's fairly new to me."
"The theory behind supply chain remains similar," she elaborated, "But there needs to be a knowledge of the industry to be able to adapt correctly and know what the client wants, know what the industry wants, and to assess the supply chain."
Regarding her industry specifically, Ariane said there are two trends they are focused on:
"The first one is the customer's enthusiasm for smart products. Stelpro is participating in that product development, offering a solution to our customers. So, that's a big one we're on the lookout for and trying to have the right partners, the right suppliers, the right production strategy to be able to successfully launch these products."
"The second one is the upcoming energy transition. We're all aware of the environmental consequences of our own lives and we must improve the sustainability of our planet for future generations. So, I appreciate participating in those discussions with my colleagues here at Stelpro to see how our position is going to be maintained as a leader in the market when this transition comes in on energy."
Looking back
We asked Ariane about her advice for young professionals, looking back on her own career. To which she provided some insight on the importance of perspective and patience:
"I think the most important thing we have to know is to do something that we love, that challenges us daily, that allows us to learn and be proud of our accomplishments… when I look back there's moments where I didn't always feel I had all of that going on. But I think it's important to allow ourselves to take the time to learn and gain experience. That time is beneficial for when the opportunity comes and the right moment to have a new wind in our career."
She also wanted to offer advice to young women, specifically, "I would like to say to all young women that want to pursue a career in a male-dominated industry, like the electrical industry or engineering, give it a try because it's a world full of opportunity. Sometimes these industries can seem scary for a young woman who doesn't know what it's like to manage in those kinds of industries," she said, "But I think we have a good contribution, as young women, to bring a different perspective on things."