AD Network Meeting Draws 300 Member Attendees Across North America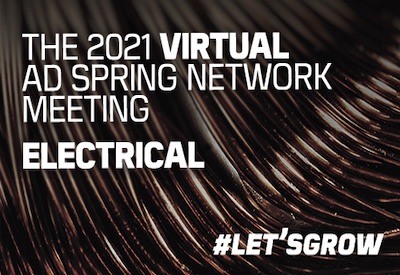 June 29, 2021
AD's electrical team hosted the 2021 Virtual AD Spring Network Meeting April 21-22, welcoming over 300 member attendees from U.S., Canada and Mexico.
While the meeting itself took place over two days, AD hosted weekly strategic supplier webinars for several weeks leading up to the meeting, where AD members heard updates from supplier partners on market conditions, plans to win with AD and opportunities available in areas like training, unique products and AD program participation and engagement. Attendees also participated in a virtual trade show for their extended teams, where eight sponsors had the opportunity to present detailed new product demonstrations, real-life application website tours and customized presentations showcasing new innovations.
Attendees also participated in U.S., Canada and Mexico divisional member business meetings and network meetings. Networks are a cornerstone of AD's model, bringing together non-competing member peers to share best practices and problem-solve.
Electrical-Canada part of overall expansion in Canadian market
Rob Dewar, president of the recently formed AD Canada Business Unit, reviewed the structure of the new business unit during the Electrical-Canada member business meeting. With a new Canadian training centre and warehouse, Dewar is confident AD's presence in Canada will only help engage and grow the Canadian electrical division business.
"AD Canada's combined scale and shared resources across all three AD Canada divisions, which also include Plumbing & Heating, and Industrial & Safety, will bring more focus to the Canadian market for both members and supplier partners," Dewar said. "This creates a true win-win situation for all of our partners."
Brad Harper, vice president of finance & operations – AD Canada, showcased the new training centre, board room and meeting spaces now available for members and suppliers use. He said the new facility is an AD Canada resource, there to support members of all AD Canada divisions.
Electrical-U.S. Division transitions board leadership
The Electrical-U.S. Division member business meeting opened with an update where President Dave Kinsella thanked previous U.S. Board Chair David Rosenstein, president of CX, for his leadership, service to the membership, and for his lasting friendship. Kinsella welcomed John Hanna, current divisional board chair and president & COO of Fromm Electric Supply Corp.
Hanna shared the importance of accelerating growth with AD suppliers, leading and staying engaged. He challenged the AD community to find opportunities to make each other stronger, actively participate in networks and volunteer on committees.
"Finding ways to work together to provide mutually beneficial programs that separate AD in the market will make us stronger," said Hanna. "As member-owners, we need to prove to ourselves that we can. Can't is easy, and can is hard, but together through our collective efforts, we can move mountains."
Despite the challenges the AD community experienced in 2020, the division remains focused on continued growth. John Orman III, Electrical-U.S. divisional board member and president & CEO of Locke Supply Co., expressed his perspectives on recruitment and retention.
"Before our company joined AD, we didn't network with other distributors," Orman said. "The character of independent distributors is respectable and honorable, whether they are AD members or not. This mutual respect of seeing a competing distributor making a difference in the industry has changed our philosophy on quality independent distributors. Independent distributors need to stick together as much as we can."
Hanna challenged the division's members to continue innovating over the months to come.
"We are working hard to make this your organization for continued growth," he shared. "Accelerate the power of your networks, learn from each other, and find that one spark that moves the needle: engage, prioritize, utilize. Engage in the programs offered, prioritize our key supplier partners and utilize new initiatives."
Electrical-Mexico networks share best practices
Juan Carlos Zacarías, director, Electrical Division – Mexico, shared with his membership that despite the challenging conditions in 2020, Mexico division members achieved 5% growth and above-average industry market trends.
Luis Carlos Garza Tamez, Electrical-Mexico divisional board chair and CEO of ABSA voiced how the value of AD networks helped strengthen relationships and businesses in 2020.
"We were meeting weekly, said Garza. "Sharing best practices during critical times of the pandemic helped us make better business decisions, improve operational efficiencies, and gain market share. This led us to explore new markets, new ways to approach customers, and develop eCommerce strategies. We took these opportunities during difficult times to improve our overall performance."
Weisberg celebrates 2020 performance, member engagement
In his remarks, AD's Chairman and CEO Bill Weisberg celebrated members for outperforming the market as a group in 2020, making special mention of those members who served in AD leadership roles during the pandemic.
"So many members stepped up last year to give of their time and talents, most especially those serving on our AD LLC Board of Directors, divisional boards and committees," Weisberg reflected. "It was humbling to see how willing these men and women were with engaging and guiding our staff and their fellow members. And, of course all this was to the backdrop of the struggles they were facing at work and home. I'm so thankful and extremely optimistic."
In addition to division-specific subjects, attendees of the spring network meeting also received updates and tips on leveraging AD's market planning and conversion programs to optimize AD partnerships, and the benefits of participating in eCommerce Solutions and AD Rewards programs.