AD Announces Two Additions to PHCP Business Unit Leadership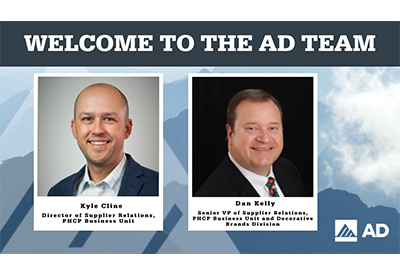 August 17, 2022
By Zach Raczka, Marketing & Communications Specialist, AD
Recently, AD was pleased to announce two new leadership additions to its Plumbing, Heating, Cooling and Pipe (PHCP) Business Unit, effective August 22, 2022. The PHCP Business Unit has experienced record growth in recent years in all our specific market segments: Plumbing, HVAC, PVF and Decorative Brands, and the additions to the leadership team signify continued investment for the future.
Dan Kelly will join AD as Senior Vice President, Supplier Relations, PHCP Business Unit and Decorative Brands Division. Kelly will oversee supplier relations for the PHCP Business Unit and lead the Decorative Brands Division. He will report to Jeffrey Beall, President, PHCP Business Unit.
Kelly joins AD from Breeden Mechanical, Inc., where he held the position of Vice President of Supply Chain Operations and Purchasing. Prior to that role, Kelly served as Executive Vice President for Thos. Somerville Co. Kelly has over 30 years of success in multiple levels of wholesale distribution.
Kyle Cline will join AD as Director, Supplier Relations, PHCP Business Unit, focusing primarily on the Plumbing and HVAC Divisions. Cline will be responsible for supplier engagement and relationship management. Cline will report to Kelly.
Cline comes to AD from Locke Supply Co., where he served in multiple leadership positions since 2015. Cline has over 11 years of experience in the plumbing, HVAC and electrical industries.
"These two new additions to our PHCP team will continue to foster mutual growth and innovative programs," said Beall. "Dan and Kyle both bring unique backgrounds and years of familiarity with our Owner/Member governance structure. I look forward to working with them both to create added value for the AD community."
Kelly and Cline's arrival comes as two PHCP Business Unit leaders step away from AD. Linda Hoff, who served as Director of the Decorative Brands Division, retired in August, and Jeff Konen, Vice President, Supplier Programs, Plumbing and PVF Divisions, plans to retire at the end of the year.
"We know that AD can best serve our members and suppliers when we have the best people, and Dan and Kyle are no exception," said Bill Weisberg, AD Chairman and CEO. "Their leadership and new perspectives will build on the PHCP Business Unit's consistent growth and investment into our members and suppliers."