ABB Canada Earns Gold Parity Certification by Women in Governance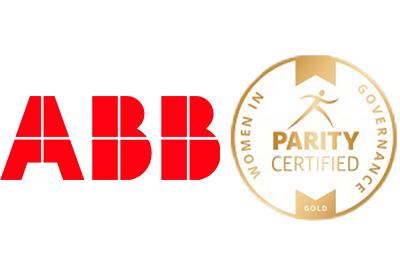 March 16, 2022
Women in Governance recognizes organizations enabling women at all levels of its hierarchy to achieve career advancement. Since 2019, ABB Canada has consecutively been awarded a Bronze, Silver and Gold certifications.
When entering the certification process three years ago, ABB took a closer look at measuring its practices and what needed to be done to better implement concrete actions to further improve their gender equity work environment. In 2020, ABB launched a new Global Diversity and Inclusion Strategy, focusing to improve three key pillars: governance, inclusive leadership & culture, and partnerships.
"Diversity and inclusion is the responsibility of all of us. Who are you as a colleague and leader and how are you helping drive this agenda forward in your scope." says Heidi Robertson, Corporate Head of Diversity and Inclusion at ABB. "At ABB, our leaders are visible role models and active contributors. And on the ground, we have so many dedicated and passionate people who drive awareness and progress every day. The foundation for our people is to be able to be themselves, to be respected and to also be able to thrive. There is a particular responsibility on the shoulders of our leaders to role model the behavior we want to see, and hence set the standard for our culture".
Created in 2010 with McKinsey & Company, the Women in Governance Parity Certification not only evaluates parity in decision-making bodies, but also assesses an in-depth analysis of an organization's culture and position on gender parity to increase the representation of women in senior management as well as throughout corporate ranks.
"I am proud of this recognition as it has shown us that our efforts and actions as a team have been fruitful. Expanding the scope of our diversity and inclusion is key to advancing our culture and ensuring that ABB is an employer where all employees feel equal, welcomed, and respected." says Sylvie Bergeron, Vice President, Human Resources, ABB Canada.
The objective and desire to a create a gender-balanced workplace is continuously ABB's agenda and, while the organization has made progress in closing the gender representation gap, the company continues its efforts to provide an equitable working environment for its 105,000 employees.
For more information on Women in Governance, please click here.