ABB and BEQ Technology to Accelerate E-Mobility Adoption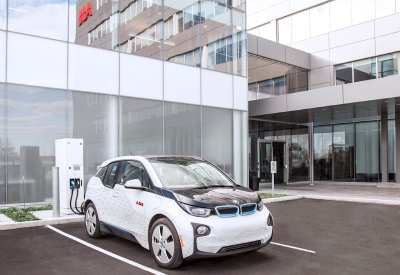 May 13, 2021
ABB and BEQ Technology, which specializes in the installation of EV charging stations, have entered into an agreement to provide BEQ Technology customers access to ABB's world-class charging solutions and
accelerate the adoption of e-mobility in Quebec.
Quebec's 2030 Plan for a Green Economy, which includes initiatives on the electrification of transport, the importance of e-mobility is being pushed up the public agenda. With its plan, Quebec aims to eliminate the sale of gasoline-powered vehicles by 2035, increase the number of electric vehicles (EV) in public transit, reduce greenhouse gas emissions and increase investment in the local economy.1
As part of this agreement, BEQ Technology will sell and install ABB's EV charging solutions, including high quality Terra AC wallbox chargers, Terra DC wallbox chargers, which offer fast charging in an ultra-compact footprint, and Terra 54 fast chargers, which can provide a quick "refill" by adding 100 km in as little as 25 minutes.
"We are proud of this strategic agreement, which will result in greater customer satisfaction across our broad client base, thanks to ABB's excellent products." said Sylvio Proteau, Co-founder, BEQ Technology. "We are excited about our plans for 2021 and contributing in a bigger way to the development of Quebec's electric mobility ecosystem."
This agreement reflects ABB's commitment for wider access to EV charging to support a low-carbon society. ABB's charging solutions are built to be highly reliable, with the durability needed in Quebec's winter conditions. The transportation sector is the fastest growing contributor to climate change in Canada, with transportation accounting for 23% of Canada's greenhouse gas emissions. A transition to EVs is a key element in achieving Canada's net-zero emissions goal by 2050.
"We are pleased to sign this agreement with BEQ Technology to make our industry leading chargers available to more drivers. Having a robust charging infrastructure is key to electrification of transportation and we look forward to working together to build a more sustainable transport future," said John Ieraci, Director, E-mobility, ABB Canada.
ABB is a world leader in electric vehicle infrastructure, offering the full range of charging and electrification solutions for electric cars, electric and hybrid buses as well as for ships and railways. ABB entered the e-mobility market back in 2010, and today has sold more than 400,000 electric vehicle chargers across more than 85 markets; more than 20,000 DC fast chargers and 380,000 AC chargers, including those sold through Chargedot.