AAILA Launches www.lightingagents.org to Enhance the Professional Connection Between Lighting Agents & Manufacturers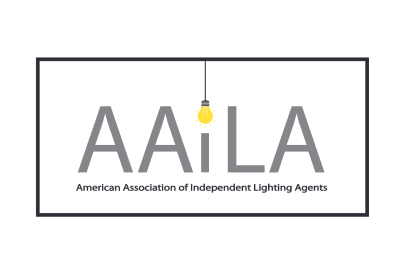 December 15, 2021
The American Association of Independent Lighting Agents (ā˗lă) announces the official launch of www.lightingagents.org and invites independent lighting & controls agencies and the manufacturers of lighting & controls (who partner with agents) to join AAILA as Founding Members.
"We found a void in the industry and began filling it. What we're creating is a professional organization for professional lighting salespeople in the commercial lighting sales channel. We're focused on creating valuable educational content and networking opportunities for lighting salespeople and principals alike" said Billy Hodges and Jay Andrews, who cofounded American Association of Independent Lighting Agents. "We've created a 'big tent' organization with dues designed to be affordable for all."
Founding Members who join in 2021 with the code EARLY will enjoy discounted dues in 2022 & 2023. Agents and Manufacturers alike are becoming early-adopters by joining AAILA this week to become Founding Members and to lock in discounted dues through 2023.
Advancing the Lighting Industry
CM Buck & Associates, an independent lighting agency in Indiana, and Ascenti Lighting a custom manufacturer in California were the first agent and manufacturer members respectively. Both Ascenti Lighting and CM Buck & Associates are planning to be active leaders in the organization. "I want my agency to be a member so that we can take advantage of all the content that AAILA is developing. I believe in what this organization is creating, and I want to help AAILA to grow." said Clark Simpson, Principal, CM Buck & Associates. "The industry has needed something like this for a long time."
Founded in 2021, the American Association of Independent Lighting Agents is a 501c6 non-profit Professional Organization. The new organization is actively planning two events in 2022:
the First Annual AAILA Principals Meeting for leaders of member agencies and manufacturers on March 14th at LEDucation in NYC
a full membership networking event in Las Vegas on June 20th before the Lightfair tradeshow kicks-off.
In addition to the events and creating an industry standard agency agreement for use by members, AAILA's 2022 online training modules will include current lighting industry topics presented from a non-proprietary but sales-oriented perspective like "Selling Dark Skies"; as well as a "Lighting Agent 101" series for people new to the industry.
The mission of AAILA is to consistently produce content and connection opportunities that increase the knowledge, strength, community, and professionalism of the commercial lighting sales channel.