A Human-Centred Leader in a Highly Technical Field: EHRC Leader of the Year Stephanie Smith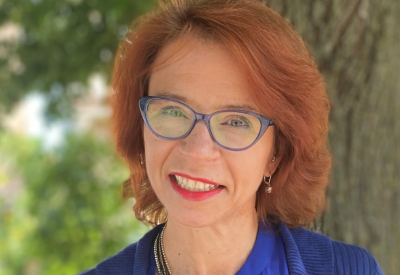 Feb 11, 2021
By Blake Marchand
"It was quite surprising," said Stephanie Smith of being named EHRC's Leader of the Year. "Leadership in 2020 has certainly been a challenge for everybody in the world let alone the nuclear industry or the electricity industry."
An engineer by trade, Smith spent the majority of her career with Ontario Power Generation (OPG). She was the first woman to be certified by the Canadian Nuclear Safety Commission at the Pickering Nuclear Generating Station where she served as Plant Manager and was recently named the first President and CEO of CANDU Owners Group. Smith is also a passionate advocate for diversity and inclusion.
"A human-centred leader in a highly technical field, Stephanie has an impressive track record of building strong relationships both inside and outside of the nuclear community, as well as creating safe and inclusive working environments," said EHRC on their decision to honour Smith, "Her nominators described her as an advocate for the importance of diversity of thought in driving business results and moving organizational culture forward."
EHRC CEO, Michelle Branigan added that, "We're pleased to recognize Stephanie as the Leader of the Year. Her professional resume speaks for itself, but the committee was also impressed with the way she has continued to lift others up and contribute to their success through each stage of her career."
Making history as a female leader in the electricity industry also meant there weren't many other women to look towards as role models. Although, Smith noted Laurie Swami (currently President and CEO of NWMO) as an early mentor that had an impact on her career.
"There comes a time in any leadership journey where you have to decide what kind of leader you're going to be," said Smith. As her career progressed, she became cognizant of other people's leadership styles and focused on the aspects she admired. Swami was one of those people.
"She was one of my early supervisors and I really learned quite a bit about how she treated her staff. You get to a point in your career where you begin to notice people have different leadership styles and, in particular, in the electricity sector it tends to be very hierarchical. When I started to rise up through leadership ranks, I paid attention to people whose style I thought I could live with and what kind of leader I wanted to be."
Another one of those people for Smith was Brian McGee, who was the Senior VP of Pickering Nuclear with OPG when she was promoted.
Respecting the expertise of the team is an important aspect of her leadership style. Smith explained a scenario when a nuclear reactor came down at 4 am, and the team had to diagnose the problem and correct it in quick time.
"At that point I stepped back, I supported my team, and we got to the correct resolution. It really highlighted to me the importance of knowing I'm not the smartest person in the room, I don't know everything," she said.
"Part of being a good leader is respecting the value everybody else brings to the team and calling upon that when you need it. I really think leaders are coaches, it's about helping people contribute the best that they can contribute. The leader's job is to help people recognize their strengths and to recognize the areas where they need improvement, and to help them do that."
Smith recently took on a new position, moving from OPG to CANDU Owners Group as their President and CEO. The role takes her from an operational focus to one focused on broader industry readiness to leverage new innovation and to help with the transition toward electrification and an energy system with reduced GHG emissions.
"I really wanted to take on a role that was more strategic in thinking and at the same time, to be honest, figure out how I can use the experience that I've got to help other people, particularly young women, and increase diversity in our industry. That's something I'm really passionate about."
The more young people can look to those leadership positions in STEM (as well as throughout various sectors/industries) and see themselves, the more they can relate and aspire to that potential.
"I think it's getting out to the younger people, because a lot of them don't see themselves as an engineer. It's getting to the younger women and seeing role models. You can see what Kamala Harris has done," she said, adding when it comes to diversity in leadership positions, representation matters.
"In my experience, diversity is being invited to the dance, inclusion is when you're asked to dance. I think we've got a long way to go regarding respect and understanding of other people's opinions and valuing the fact that people come from different backgrounds and different experiences and they can contribute. We need to value that. We're starting to, but we've got a long way to go."
When you are talking about promoting diversity, inclusion, equity; you're talking about structural issues and unconscious biases that have become ingrained in the way we do things over a long period of time. It's a complicated, generational issue and change comes gradually. Leadership in this context matters a great deal because these issues take a continuous and concerted effort to combat. That transferal of knowledge and experience, as Stephanie explains, was a key factor she considered in the direction of her career.
"I really think that mentoring and sharing experiences is an important part of being a leader," she said. "If I can help some young people become more comfortable, and also learn how to set boundaries, and how to use the skills that they've got – because I do think women make good leaders."
Smith is also passionate about solving problems related to climate change, she noted the electricity industry presents an opportunity for young people to become part of the solution. "The industry is changing so rapidly around electrification, greenhouse gases and climate action; if we can get young people to recognize that – they all know it's important – but you can be part of the solution by being part of these industries," she said, because ultimately, "The industry itself really needs the best of the best to solve this problem."
Throughout her career, Smith has made a point to get involved in the industry as a mentor for those inside and outside her organization, while also working with organizations like Women in Nuclear and Women in Renewable Energy and volunteering her time to speak at local colleges. Contributing to change for Smith is about celebrating diversity and the stories of women, bringing together different perspectives and empowering people to realize their potential. Being a good leader for Smith is about knowing when to exhibit strength and when to be facilitative; being empathetic and respecting the value of the team's expertise. These are only some of the reasons Stephanie Smith is EHRC's Leader of the Year.
EHRC is holding its annual Awards of Excellence ceremony virtually on February 17. Go HERE to register.