January 18, 2023 Rexel Canada announced that it has acquired Lineman's Testing Laboratories of Canada Ltd (LTL), a leading provider of high-voltage electrical services and products to the utility and industrial markets based in Toronto, ON and Edmonton, AB. The acquisition, which closed today, will provide Rexel Canada with enhanced opportunities in an attractive and… Read More…
How Important is Wire / Cable to Distributors?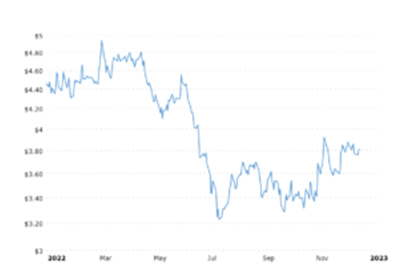 Wire and cable is a core product category for electrical distributors. And much of it, as everyone knows, is driven by copper pricing (with aluminum consumption also influenced by the price of copper.)
Copper has experienced a wild ride in 2022. It started the year at $4.42. It reached its height on March 4th at $4.94 and its bottom at $3.24 on July 13th.
---
Leslie Clark recently made a post on LinkedIn thanking Mason Armstrong of Turolight for stopping by Paul Wolf LES to surprise those he worked with many years ago and has not seen in 30 plus years. Mason was one of the people said to help make Paul Wolf the name brand it is in downtown Toronto. Read More…

January 13, 2023 By Jas Saraw, VP, Canada, Procore Looking at Canadian contruction trends in 2023, I expect a year of challenge and change as the Canadian construction industry grapples with ongoing problems such as the labour shortage while continuing to move toward integrated project delivery to achieve greater efficiency. At Procore, we are watching adoption… Read More…
---
D.A.D. Sales is pleased to announce the posting of Bob Holman to President from his previous role as Vice President and Sales Manager. "Bob Holman has always been a leader and mentor to the D.A.D. Sales team, and we value his continued leadership in his new role." – Bonnie Youngs, Vice President, D.A.D. Sales. Read More…

AD is thrilled to announce the launch of a new AD Canada LinkedIn page, which serves as the AD Canada community's dedicated source for the latest news, happenings, updates, and events for AD divisions operating north of the border. AD Canada is elated to have this new line of communication available to connect the Canadian arm of the organization directly to the valued AD Canada community, and the AD Canada team looks forward to helping members and suppliers keep in-the-know. Read More…
---
Schneider Electric, a leader in the digital transformation of energy management and automation, is Canada's top international corporate citizen in 2022. This designation was awarded to Schneider Electric by Corporate Knights, a media and research company committed to advancing a sustainable economy. Read More…

The Sonepar Ontario Region is proud to announce the relocation of their SESCO Central Distribution Centre (CDC) to its new location in Brampton, ON. This move has facilitated an amalgamation between Texcan's large Brampton branch and SESCO's CDC, as both businesses work together within one facility for the first time. Read More…
---
Trending Articles
Canadian Electrical Wholesaler
Published twice monthly on the first and third Thursday of every month Canadian Electrical Wholesaler is the voice of the electrical channel in Canada. The editorial focus of CEW is a solid mix of features, news, articles and product information. Key aspects are peers and profiles and in-depth best management practices ensuring every issue is read from branch level right up to head offices. Simply put we provide the need to know business information including the latest trends, new market opportunities, sales techniques and operational analysis to distribution professionals written by those who live this business and published by Kerrwil founded in 1964 to serve the electrical industry in Canada.