2022 EFC Manufacturer Corporate Engagement Award Recipient: Leviton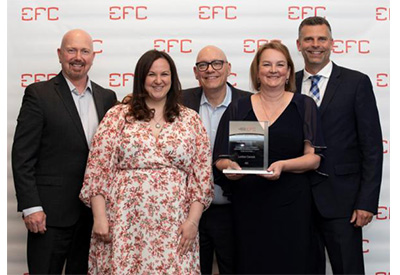 July 18, 2022
This year's EFC 2022 Manufacturer Corporate Engagement Award recipient is Leviton Canada. This recognition is presented to an EFC member company that demonstrates leadership in committee and event participation. The EFC Board of Directors selects the corporate engagement award contenders and the final recipient based on set criteria.
Leviton has excelled in all areas of support for EFC and the industry. Leadership positions have been held on NAC, the Board of Directors, the Women's Network, the Young Professionals Network, the Electrical Technical Advisory Committee, and Regional Leadership.
We spoke to Jason Prevost, President and Chief Operating Officer at Leviton, and asked what this award means to Leviton.
"It means that we are giving back to the community and, for me, it's being able to give back to our employees. Taking our employees out of their comfort zone and exposing them to the industry is probably one of the healthiest things we can do. Many organizations may feel it is sometimes a risk, but it just means we have very engaged people and a brand becoming more recognized as our people get more involved."
Nominating a company or individual for their hard work, dedication to the industry, and successful accomplishments builds our community to grow, lead and compete in an ever-changing world. Recognition can breed success.