2021 EFC Scholarship Program Awards Over $130,000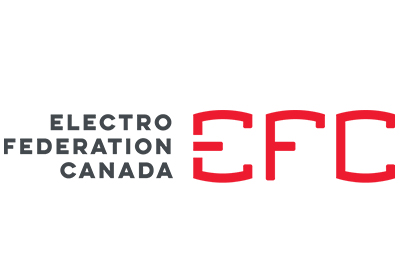 December 5, 2021
Electro-Federation Canada (EFC), through the support of its members, is proud to support university and college students with scholarships and career opportunities.
Many students are coping with increased financial and time pressures during COVID-19. Now more than ever, this support is of greater importance to students who are the upcoming talent for our workforce.
The EFC Scholarship Program promotes the Canadian electrical industry as a career destination. This year, over $130,000 in scholarships, supported by EFC member organizations, have been awarded to students across the country. Click here for the 2021 student recipients.

Electro-Federation Canada (EFC) is a not-for-profit industry association representing Canada's most innovative electrical manufacturers, distributors, and sales agencies. These companies provide leading-edge products and services that help power a changing world—everything from the electrical grid, automation and robotics, to intelligent buildings, smart homes, and the electrification of transportation, heating, tools, appliances, and more. Explore how EFC is powering a changing world: view video
Our industry's electrical products are essential in homes, office buildings, factories, and other infrastructure. Our energy-efficient and sustainable solutions, such as LED lighting, sensors, controls, transformers, and electric heaters, allow Canadians to be more environmentally-conscious and reduce their energy footprint at home, work and play.
The EFC Scholarship Program showcases an industry that understands its responsibility to attract young talent.
"Students receiving scholarships have expressed the COVID impact on their part-time employment. This program provides financial assistance and showcases the electrical industry as a great career destination. Many scholarships support diversity and inclusion." said John Jefkins, VP of Member Engagement & Corporate Partnerships, Electro-Federation Canada.
"The program is essential for our industry. Our participating EFC members have provided scholarships in engineering, business, finance, and operations and meet the student recipients to build relationships for future employment," said Frank Cistrone, Chair, EFC Scholarship Committee, Shawcor Group, President, Automotive & Industrial – ShawFlex and DSG-Canusa
The EFC Scholarship Program will accept applications in February 2022. View the EFC Scholarship program