Wholesale Sales Continue to Rise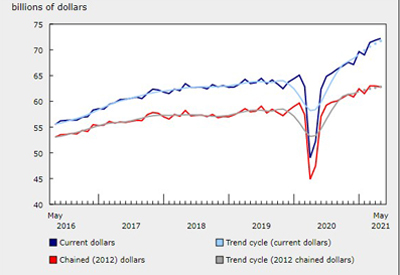 Aug 3, 2021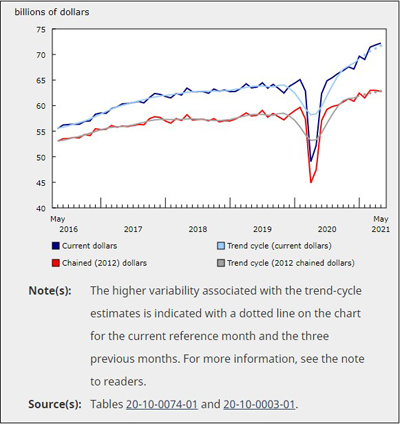 Sales of wholesale goods rose 0.5% in May to $72.2 billion, the third consecutive monthly increase. More than 95% of the gain came from the food, beverage and tobacco subsector, which reported growth of 2.7%. Sales were higher in four of the seven subsectors, representing 72% of total wholesale sales.
Wholesale volumes fell 0.3% in May.
Wholesale sector strong over the year leading up to May 2021
Since reaching a low of $49.0 billion in April 2020, during the COVID-19 pandemic, sales have risen in 11 of the 13 months. In May 2021, they were 11.0% higher than the pre-pandemic level in February 2020. The 10 months with the highest sales of all time in the sector were the 10 months from August 2020 to May 2021, with May 2021 being the highest month on record.
The sustained increase in sales in the sector reflects the variety of services that wholesalers provide, even with the shifts in economic activity brought on by the pandemic. While sectors such as transportation, tourism and hospitality have all suffered significant declines, wholesalers have benefited from the increased demand for building materials, machinery (including computer and electronic products), and personal and household goods.
Food, beverage and tobacco subsector sales spur gains
Higher sales in the wholesale sector were largely the result of 2.7% growth in the food, beverage and tobacco subsector. All of the gains came from the food industry, as sales jumped 3.3% to $11.4 billion, the highest level since March 2020. Food sales have risen for five consecutive months. The increase reflects the loosening of COVID-19 restrictions, which enabled more restaurants to open with limited capacity and allowed Canadians to meet in larger groups.
Sales of machinery, equipment and supplies rose 0.5% in May, with strong increases in sales of construction, forestry, mining, and industrial machinery, equipment and supplies, and of computer and communications equipment and supplies. These were largely offset by a large drop in the sales of farm, lawn and garden machinery and equipment. The increase in the subsector was the fourth in five months.
Building material and supplies wholesalers posted their 12th increase in 13 months as sales rose 0.5% to $13.1 billion. The increase came as prices for lumber and other wood products rose for the sixth consecutive month—up 17.9% in May, according to the Industrial Product Price Index.
Gains were also reported in the motor vehicle and motor vehicle parts and accessories subsector.
Port of Montréal strike
Approximately 15% of respondents said their business was impacted by the strike at the Port of Montréal in April and May, causing a loss of approximately $230 million in wholesale sales.
Among respondents who said their business was affected, approximately two-thirds said they experienced delivery delays. Some businesses rerouted inbound containers to ports in New York and Halifax, increasing shipping and logistical costs and sparking delays ranging from three weeks to almost nine weeks.
Provinces from Quebec westward experienced the most significant delays in transport, with many businesses in Alberta, Ontario and Manitoba being moderately affected. While some businesses increased their inventories in anticipation of the disruption, many experienced raw material shortages.
Some respondents said that they reacted to labour disruptions at the Port of Montréal by changing how they transport goods, such as shipping them via air or using a different port. Others noted that they used alternate delivery methods to respond to the labour disruption and said they incurred higher costs and delays.
Ontario leads gains in wholesale sales in May
Sales rose in four provinces and two territories in May, representing 64% of total national wholesale sales. Ontario alone accounted for 49% of the sector's sales. Ontario led the growth, reporting $35.6 billion in sales, a 1.3% gain, followed by British Columbia, with an increase of 5.3% to $8.2 billion in May.
In Ontario, the food, beverage and tobacco subsector accounted for half of the province's increase, with a 6.1% rise in sales in May, 98% of which came from the food industry. In addition, sales in the machinery, equipment and supplies subsector rose 2.0%, reflecting a 21.0% increase in sales in the construction, forestry, mining, and industrial machinery, equipment and supplies industry.
Sales in British Columbia reached a record high for the third consecutive month. The building material and supplies subsector had the largest growth, up 4.6% from April. This gain was predominantly attributable to a 6.7% increase in the lumber, millwork, hardware and other building supplies industry, spurred by increased prices of lumber and other wood products.
Quebec had the largest decline, with sales falling 1.2% to $14.4 billion in May, following two months of growth. The decline reflects a 10.8% drop in the miscellaneous subsector, which reached its lowest level since February 2021. Following a record high in April, when sales jumped 41.6%, sales subsequently decreased by 49.0% in the agricultural supplies industry, cancelling the gains made in the four other industries in this subsector. Traditionally, May was the strongest month for sales in the industry in Quebec, but in the last two years, unadjusted agricultural supply sales have been stronger in April.
Inventory levels grow
Wholesale inventories rose 2.1% to $95.0 billion in May, their highest value on record. Inventories in five of the seven subsectors increased, accounting for 82% of the value of inventories for the sector.
Inventories of building material and supplies merchant wholesalers grew 5.6% to $16.6 billion, the eighth consecutive increase and a new record for the subsector. Inventories of lumber, millwork, hardware and other building supplies merchant wholesalers grew 9.7% to $8.3 billion. The industry has been growing for 11 months and contributed more than 80% of the growth in the building material and supplies subsector in May.
Inventories of personal and household goods merchant wholesalers shrank 4.7% to $16.4 billion, more than offsetting gains made in April, reflecting changes in the two largest component industries. Textile, clothing and footwear wholesalers' inventories decreased 16.1% to $3.3 billion, while personal goods wholesalers' inventories decreased 12.4% to $2.1 billion.
Miscellaneous merchant wholesalers' inventories rose 5.8%, largely because of increases in inventories of agricultural supplies wholesalers, which grew 8.4% to $5.0 billion, and other miscellaneous wholesalers, which rose 7.9% to $3.8 billion in May.
The inventory-to-sales ratio was 1.32 in May, up from 1.29 in April. The inventory-to-sales ratio is a measure of the time (in months) required to exhaust inventories if sales were to remain at their current levels.
Source: Statistics Canada, www150.statcan.gc.ca/n1/daily-quotidien/210716/dq210716a-eng.htm?CMP=mstatcan