Westburne Promotes Matt Madonna and Mark McArthur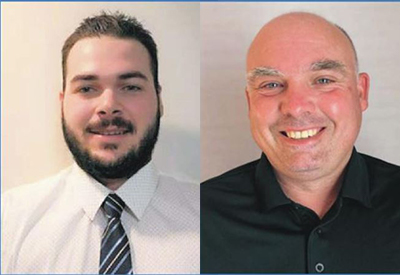 September 9, 2021
The Ontario Division of Westburne has announced two new additions to the senior leadership team.
Mark McArthur (right) has been promoted to Eastern District Manager. Mark will be responsible for Westburne's branches in Belleville, Brockville, Cobourg, Cornwall, Kingston, Lindsay, Oshawa, Ottawa, Pembroke, Peterborough, and Smith Falls. Mark joined Westburne in September 2016 as the Peterborough Branch Manager bringing with him over a decade of related sales, management, and supply chain experience.
Matt Madonna (left) has been promoted to Northern District Manager. Based out of the Sault Ste Marie Branch, Matt will be responsible for the North Bay, Sault Ste Marie, Sudbury, and Timmins branches. Matt has over seven years of experience as a Licensed Electrician in three electrical business sectors. He joined Westburne in 2019 as an Account Manager and was promoted to Sales Manager.