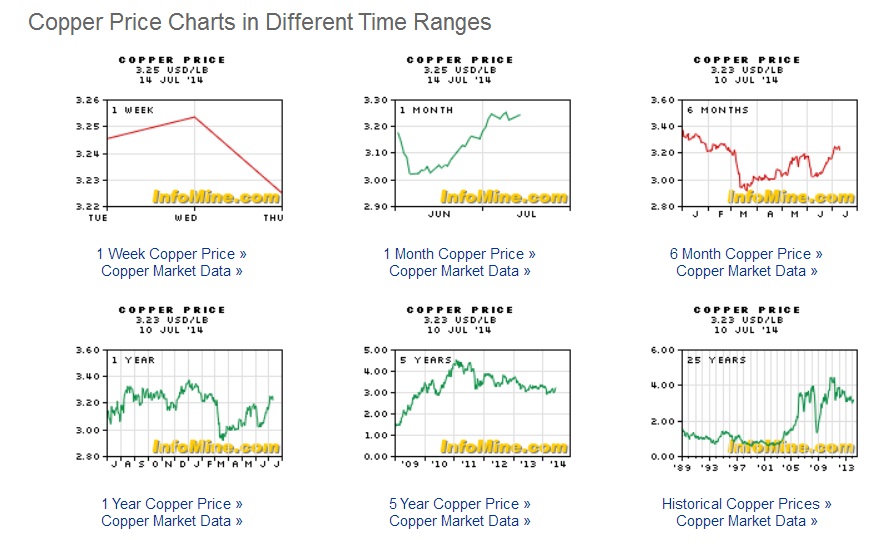 Jim Williams
Depending on what you read, and what day you read it, the future of copper is either extremely bleak, or it is about to skyrocket like something we haven't seen in the copper market for years.
This graphic looks like an EKG line in a hospital emergency room. 
 Source: http://www.infomine.com/investment/metal-prices/copper/ 
After the scandal from a couple of weeks ago from the eastern Chinese port of Qingdao that rocked the worldwide market for copper, the red metal appeared to be on life support. But, just when you think the sky is falling, copper goes on a run of gaining for seven straight sessions, extending the longest rally in almost six months.
Experts say the streak is a result of manufacturing growth in China bolstering demand prospects among signs of tight supply.
"Metals have experienced some short covering today (Monday) as Chinese manufacturing data continues to make positive advances," states weekly contributor Michael Turek, head of the metals desk at NewEdge in New York. He continued by suggesting, "With North American demand robust and Europe not being quite the basket case many anticipated, metals might be embarking upon a compelling enough story to attract in some idle investment capital from the sidelines."
Turek adds, "Late last week metals edged marginally higher in the wake of the Fed's projection of continued low interest rates. Specifically, copper was supported by a slight tightening in the spreads. Overall it looks as though the market is slowly restoring confidence to itself albeit with half an eye on Chinese ports' practices. Dips would look even more attractive if they did not resemble reversals when they suddenly, almost randomly, occur. Not sure what metals were employed in the construction of Rome but it was not built in a day."
Goldman Sachs forecast that copper prices are likely to fall to $6,200 a ton by the end of 2014. "Additionally, the Qingdao situation may lead to a rapid unwind in financing deals resulting in a risk that the target forecast is reached earlier than the end of the year," the bank said in a report.
Traders also expect copper imports to China to decline in coming months, in part due to customs officials tightening checks on incoming shipments.
Examining the trends a little deeper, a preliminary Purchasing Managers' Index (PMI) from HSBC Holdings Plc and Markit Economics rose to 50.8 in June, exceeding the 49.7 median estimate of analysts surveyed by Bloomberg. This is the first time this year the reading finished above 50, signaling expansion. Inventories tracked by the main exchanges in London, Shanghai and New York fell for an eighth session to the lowest since October 2008.
Morgan Stanly released a report earlier this month saying copper consumption is expected to trail output by 90,000 metric tons this year. The market posted an 83,000-ton deficit in March, after a 2,000-ton surplus a month earlier, the International Copper and Study Group said in a report released this week.
Supply and demand "favor the bull camp," Tom Power, a senior market strategist at RJO Futures in Chicago said.  "As long as we're continuing to see strong economic data out of China, we're probably going to see calls for more demand."
Copper futures for delivery in September advanced 0.9 percent to settle at $3.142 a pound Monday on the Comex in New York, extending the longest rally since Dec. 16.
 Source: http://www.nasdaq.com/markets/copper.aspx
This article was first published in TEDmag.com on 6/24/2014. We would like to thank them for giving us the permission to publish it in CEW. 
 http://www.tedmag.com/news/Features/The-Copper-Rollercoaster.aspx