Southwire Canada Receives Great Place to Work Recertification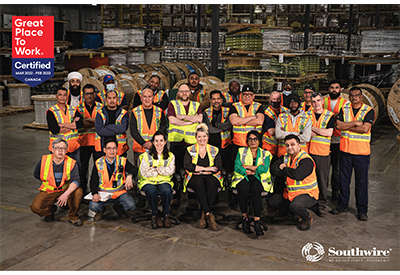 April 29, 2022
Southwire Canada is pleased to announce that it has been named as a Great Place to Work (GPTW) Certified organization for the second year in a row. The recertification showcases the company's commitment to its employees, communities and other stakeholders.
"This recertification is a great recognition of our employees who are truly The People Behind the Power™ of what is possible," said Tim King, president of Southwire Canada. "Our commitment to serve our customers and communities through our core tenets of sustainability is what drives such a strong culture here at Southwire, and this recognition is a testament of that culture."
Southwire received this recognition after a thorough and independent analysis conducted by GPTW, the world's leading research and consulting firm dedicated to helping organizations assess and develop their workplaces, cultures and employee engagement.
"It is an honor to be recognized by our employees for the second year in a row as a Great Place to Work, and this demonstrates that the foundation of a great workplace lies in its culture more than in the compensation, benefits and other perks that it offers," said Rahila Dhansi, Southwire Canada People & Culture manager. "Our leaders and employees have worked hard to instill and maintain a culture of trust, empowerment, consistency and inclusion, and this recognition demonstrates that we are moving in the right direction."
According to GPTW, trust is the main ingredient in building a great place to work for all, which is why the organization uses the Trust Index© — based on the Great Place to Work Trust Model© — to measure the levels of trust in the workplace according to five key dimensions: Credibility, Respect, Fairness, Pride and Camaraderie. GPTW uses this framework to define a great workplace as one where employees trust the people they work for, have pride in the work they do and enjoy the people with whom they work.
"Our data shows that great workplaces benefit from stronger financial performance, reduced turnover and better customer satisfaction than their peers," said Nancy Fonseca, senior vice president of GPTW Canada. "Work environments with trust at the foundation are ripe for innovation, agility, resilience and efficiency."