Southwire Announces Acquisition of Topaz Lighting Corporation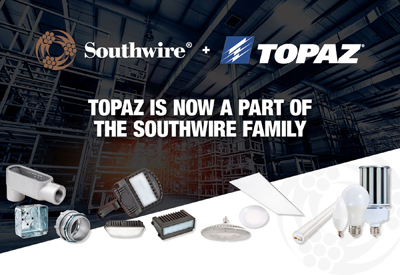 Dec 7, 2021
Addition helps position Southwire as an industry leader in electrical components and lighting.
Supporting the company's growth strategy and building toward its goal to remain a generationally sustainable, diversified electrical company, Southwire is pleased to announce the acquisition of Topaz Lighting Corporation (Topaz) of Medford, N.Y. Serving the construction, industrial and OEM markets for more than 35 years, Topaz is a leading provider of quality electrical fittings, components, and lighting products.
Through this acquisition, Southwire will welcome employees from Topaz and will integrate their distribution network to enhance Southwire's distribution footprint. Topaz's existing product line will also be combined with Southwire's rapidly expanding Components Solutions and Lighting platforms.
"We're very excited about the addition of Topaz and are pleased to welcome their employees to the Southwire team, specifically to our Tools, Components and Assembled Solutions business," said Rich Stinson, Southwire's president and CEO. "We want to provide our customers with solutions for every phase of the job. The acquisition of Topaz helps us further bolster our components offering and expand our portfolio of Lighting products and solutions."
Southwire will now be able to leverage Topaz's robust product offering of electrical components, commercial/industrial LED indoor & outdoor luminaires, LED lamps and traditional lighting to further enhance their ever-growing product line of electrical solutions focused on the professional.
"Our acquisition strategy puts our channel partners and end users at the center of our focus," stated Brandon Moss, Southwire's President of tools, components, and assembled solutions. "By being the one source for tools, components, and lighting, our partners and customers will be able to enjoy numerous advantages through our expanded product portfolio."
For more information on Topaz Lighting Corp., visit topaz-usa.com.