Shane Smith, New Richmond Branch Manager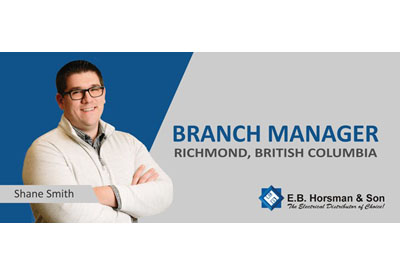 Oct 18, 2021
Announcing: Shane Smith, New Richmond Branch Manager
Please join us in congratulating Shane Smith on his new role as Branch Manager, Richmond, effective October 1st, 2021.
Shane has over 15 years of experience in the electrical industry and is a great example of an individual who has grown and progressed his career within EBH. He started in 2007 as a Material Handler in the Surrey Branch. In 2009 he transitioned to our Richmond branch as Customer Service, Inside Sales. Shortly thereafter, Shane found his niche in Lighting and has worked as a Technical Inside Sales and Lighting Product & Application Specialist for the last 7 years.
Shane is well known to be a hard worker and committed to getting the job done. He has been an instrumental part of the Lighting Training program within EBH. Shane was awarded the President's award by Tim Horsman in 2018. This award recognizes a person or group that goes over and above all expectations to exhibit a commitment to the company's core values and demonstrates exemplary leadership under all circumstances. Shane also received the Business Developer award in 2019 as a team member who consistently shows excellence in sales performance, technical support and branch collaboration.