Schneider Electric's Adrian Thomas Elected President of European Union Chamber of Commerce in Canada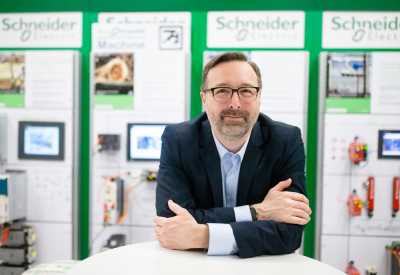 July 22, 2021
Schneider Electric Canada, together with the France Canada Chamber of Commerce Ontario (FCCCO) is proud to announce Adrian Thomas as the newly elected President of the European Union Chamber of Commerce in Canada (EUCCAN). Thomas, who currently serves as the country president of Schneider Electric Canada is entrusted with continuing the growth of EUCCAN by reinforcing transatlantic cooperation between the European and Canadian business communities.
"I am deeply honoured for the opportunity to join EUCCAN as their new President and build on the growth they've experienced in recent years," says Adrian Thomas, Country President of Schneider Electric Canada. "The EU and Canada both have an important role to play on the international stage and are uniquely positioned to drive this change with sustainability and innovation at the helm. I look forward to our collaboration as we strive to further strengthen relations between Canada and Europe." 
Thomas brings over 20-years of experience in the electrical and automation industry in North America. He joined Schneider Electric Canada in 2016 as the leader of the Building segment, and has since held multiple leadership roles before his appointment to Canada Country President in 2020.
"I am proud to see Adrian serve as EUCCAN's President and be the flag bearer for the EU business community," says Honourable Madame Kareen Rispal, Ambassador of France to Canada. "He brings a wealth of experience and is well positioned to lead the EU business community towards green recovery post pandemic," added Sanjay Tugnait, President of France Canada Chamber of Commerce Ontario (FCCCO), and Global Managing Partner, Sustainability Practice, IBM GBS.
In addition to working with EUCCAN, Schneider Electric is a founding member of the FCCCO since its inception three years ago and has contributed strongly towards the Chamber's rapid growth. From being a part of FCCCO's Innovate & Create Conclave, Startup Competition, and most recently, Chief Sustainability Officer's Think Tank, Schneider Electric continues to be at the forefront of driving sustainability and innovation.