Rittal Systems Wins 2017 E.B. Horsman & Son Supplier of the Year Award Survey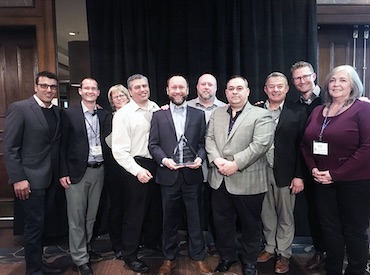 Mar 27, 2018
During E.B. Horsman & Son's Annual General Meeting earlier this month, Rittal Systems Ltd. was presented with the 2017 E.B. Horsman & Son Supplier of the Year award by Tyson Carvell, VP of Marketing. The award was received by Sean Northcott, Rittal Technical Representative for the BC Region.
Each year E.B. Horsman & Son monitors the sales and operations of each of their 600+ supplier partners. They solicit feedback from their branch network on the effectiveness of the teamwork with their supplier partners, analyze key operational metrics and the effectiveness of marketing campaigns, and discuss strategic sales accomplishments.
A shortlist of nominees is compiled and Supplier of the Year is awarded to the partner that exceeds their peers in the following areas:
• branch coverage and collaboration
• sales and marketing activities planned and executed
• key performance indicators that influence operational excellence
"We received great feedback about Rittal from our Head Office staff, branches, and outside sales force. Over the past year they have worked with us on inventory related issues, improved efficiencies, increased reliability, and launched new products — all of this and more contributed to Rittal winning the award this year," said Tyson Carvell, E.B. Horsman & Son, VP of Marketing.