nVent Joins ETIM North America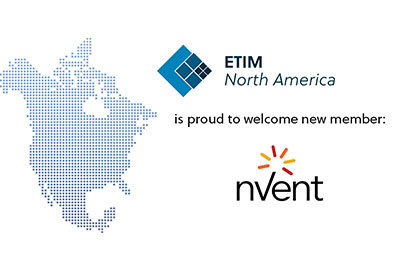 March 31, 2022
ETIM North America recently announced that nVent Electric plc (NYSE:NVT), a global provider of electrical connection and protection solutions, has become a member of the product classification standards organization.
nVent designs, manufactures, markets, installs, and services high performance products and solutions that connect and protect some of the world's most sensitive equipment, buildings, and critical processes. It offers a comprehensive range of enclosures, electrical connections and fastening and thermal management solutions across industry-leading brands that are recognized globally for quality, reliability, and innovation.
Today, more than 30 companies are participating in ETIM NA. As a direct member, nVent will use ETIM standards for product classification and taxonomy and will bring its expertise to ETIM NA as a member of ETIM Product Expert (PE) Groups.
"The electrification of everything is creating more demand for solutions that connect and protect. Given our global participation in the electrical market and our involvement in serving global distribution and customers, joining ETIM North America is an important step for nVent," said Jasneet Kaur, VP Business Development for nVent. "We believe the ETIM product classification model is the most simple and logical protocol for us and our customers to use to support digital transformation and eCommerce initiatives."
ETIM NA believes it is important that companies that value channel efficiency and are contributing to the rapid digital transformation in the electrical industry have a voice in the standards setting process. This makes nVent an excellent candidate for membership.
In the initial phase of the partnership, nVent will participate in the power distribution and automation and drives PE groups. As ETIM North America expands into cable management systems and grounding and works to develop standards for those product categories, nVent will play a key role in those groups.
"Having nVent join ETIM NA is very important as they are a prominent North American and global company with leading brands that are important to distributors and their customers," said Mary Shaw, Executive Director of ETIM North America. "nVent's leadership will help our members accelerate product attribution, particularly within the enclosures and cable management categories."
To learn more about ETIM North America, its Product Expert Groups, and how manufacturers, distributors and service companies can participate, visit www.etim-na.org.