Northern Cables Receives $820,000 Development Grant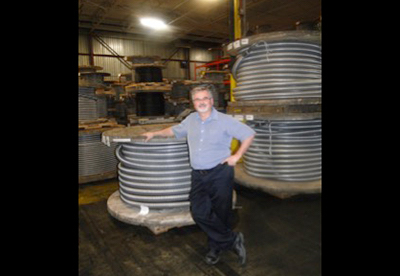 June 17, 2016 
Northern Cables is receiving a grant of $820,000 from the Eastern Ontario Development Fund (EODF) as part of an $8.2-million investment project. The EODF support will help create 18 jobs and retain 163 existing positions.
Northern Cables will use the funding to add equipment to its aluminum strip production site in Prescott. It's part of an expansion plan by the manufacturer of commercial, industrial and mining power cables that is expected to be completed in 2020. In the photo: CEO Shelley Bacon.
Northern Cables manufactures copper, aluminum and low-voltage cables for industrial, mining and commercial use. With $820,000 in support from the fund, Northern Cables will add equipment to manufacture aluminum products. The company will also expand one of their two Brockville locations.
The company was established in Brockville in 1996 by five former employees of the Phillips Cables Brockville plant, which closed in 1996. Northern Cables has since grown steadily with sales throughout North America and exports of up to 50% of its manufacturing capacity.
The Eastern Ontario Development Fund helps to create jobs and diversify the economy by encouraging regional businesses to pursue innovation and new markets. The fund was the model for the Southwestern Ontario Development Fund.
For more on Northern Cables, read this CEW profile: Northern Cables — Working And Implementing the Plan for Success.