Magic Lite Demo Case for LED Strip Series Tape Light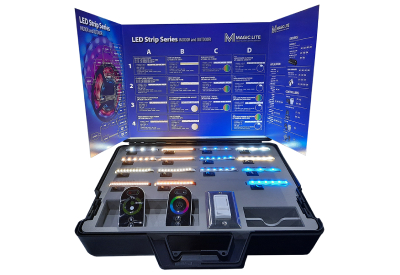 Dec 9, 2020
Canada's trusted source for architectural and specialty lighting solutions, Magic Lite, has launched a hard body, fully operational LED Tape Light display and demo case to help sales reps and customers identify and choose the best products for their projects.
LED Tape Lights offer varied lumen output providing unique flexibility, allowing the tape light to be concealed in the tiniest of coves, under cabinets or showcases. Magic Lite's LED Strip Series Tape Light is also available in an outdoor version for patios, decks, back lighting. RGB colour change is available for both interior and exterior applications offering dramatic effects. With a power density at just 2.1–4.3 watts per foot, depending on the model, meets most stringent energy guidelines.
Each demo case includes 15 functional tape lights that can be switched independently, dimmed or colour tuned. A tape light configurator, which displays, application, model number and associated drivers for easy selection. For stocking distributors, we offer a counter mat displaying this matrix. A separate companion piece, available in PDF or hard copy, explains the binning and testing that meet or exceed industry standards for both commercial and residential applications.
"We created these demo kits because of the high demand for our Strip Series Tape Lights," says Ian Smith, VP of Business Development at Magic Lite. "Having actual working, dimmable samples on hand—and in a convenient package—will help our clients select the right lights for every project. It's just one of many ways we are committed to providing innovative customer solutions at Magic Lite." Magic Lite will also be rolling out a complementary online tool to help sales agents, distributors and contractors create a bill of materials for their Strip Series line of products before the end of the year.
Magic Lite will start by distributing demo cases to its sales agents across the country. More LED Strip Series Tape Light demo cases will be manufactured to support specifiers, distributors, and their lighting champions.