Made in Canada for Canada: Two Iconic ABB Brands Celebrate Milestone Anniversaries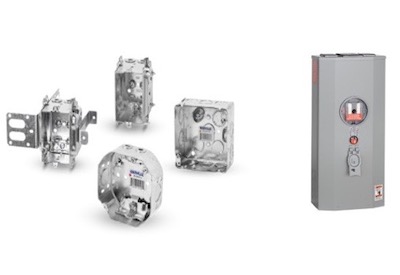 July 8, 2021
Iberville and Microlectric, two of ABB's Canadian legacy brands, have recently reached significant milestone anniversaries. With over 100 years and 50 years of history respectively, these products have stood the test of time, refined year after year to ensure product safety, efficiency, and reliability. They have become staples and essential components of the local economy in their communities. More than just products, these brands tell stories — stories of employees who over the years have worked day in day out to carry on these products' long-lasting legacies while continuing to innovate for the future.
Iberville boxes and covers — 100 years and still growing strong
Iberville boxes and covers were first manufactured in Iberville, Quebec, and now at the ABB St-Jean-sur-Richelieu facility, about five kilometres from the original site. These are the boxes that most of us have behind the walls in our homes to house the wiring connections for electrical outlets, switches and other devices. To date, the St-Jean facility continues to steadily produce 225,000 Iberville steel boxes per day, 4 million boxes per month.
With an offering of over 180 different types of electrical boxes and accessories, the Iberville brand became part of Thomas & Betts in the early 1990s when it acquired the company, Commander.
While the product line has evolved to meet varying customer needs, so have manufacturing methods and safety protocols involved in producing them. "These legacy brands are a testament to our organization," says Eric Deschenes, Country Managing Director and Head of Electrification business, ABB Canada. "We are always focused on creating solutions for the future, and these products created 50 and 100 years ago had longevity built-in from the start. They wholly support ABB's philosophy of always adapting to meet customer needs — we've just made them better over the years. And the generations of employees who've worked on them contribute to that endurance every single day," he adds.
Microlectric meter bases — 50 years and continuous innovation
Originally developed by a company acquired by Thomas & Betts in the late 1990s, Microlectric meter bases have just celebrated their 50-year anniversary. First made in Montreal and now at ABB's Iberville plant, they are recognizable products many homeowners have installed on the exterior of their houses to contain the meters that track electricity consumption.
One Microlectric product, the BP320 series, is playing an important role in ensuring that homes are electric vehicle (EV) ready. This product was introduced when residential demand for electricity began to climb. Homeowners needed a product with greater capacity as they began installing more and more systems powered by electricity. Driven by the need for a sustainable and long-term solution, the BP320 model is the first self-contained meter base in Canada that removes the need for external transformers owned and maintained by the local electrical utility. It offers the necessary capacity for EV charging in household environments and a great example of innovating for future needs.
Rolande Thibert, one of 35 women working on the Microlectric meter base assembly line, explains: "I have worked on Microlectric product assembly for 21 years and seen most if not all meter bases that were created. The BP320 model is one of our most popular products in Quebec." She goes on to add: "I worked on creating processes and assembly layout for the production of the BP320. I've assembled and disassembled it so many times. I know the product inside out and I take great pride in being part of its story. After all these years, I am proud to play a role in creating something that I know is protecting the meter's components from the harsh Canadian elements while also helping to protect buildings and homeowners through safe electrification technology."
Investing in Canada is one of ABB's top priorities. Technology and products developed, assembled and manufactured on Canadian soil have become an important part of the company's business.
ABB is an international company with a large global presence, but a significant percentage of the products sold in Canada are also designed and manufactured locally. As part of its sustainability 2030 strategy, ABB is focused on energizing the transformation of society and industry to achieve a more productive, sustainable future.
ABB is committed to Canada's vision for a green, safe, and affordable infrastructure and to supporting the country's value chain. With supply chains as local as possible, ABB ensures adaptability to sudden shifts, opportunities for new jobs and economic growth. Investing and buying locally has become a major trend within the Canadian economy and ABB is proud to have been driving this direction with a rich Canadian history that spans over 100 years.
As local as it gets
Buying locally produced goods is becoming more and more attractive for the mainstream consumer, electrical manufacturers, distributors and end-users alike. For manufacturers, dealing with local sources for raw materials and other components reduces both uncertainty and complexity with shorter lead times, no customs and less transport. The steel used in both Iberville steel boxes and Microlectric meter base enclosures is sourced locally. It's an element of pride for many employees — to work on products that are designed and manufactured locally to meet local standards—and with locally sourced material.
With over 3,000 employees across the country, ABB's Canadian businesses are helping customers stay competitive and efficient. ABB pushes the boundaries of technology to build a safe, smart and sustainable future for Canadians everywhere. A sustainable future means reducing the carbon footprint of facilities and supporting customers—and their customers—in reducing their environmental impact.