Concern Over Combines Investigation Act – 1966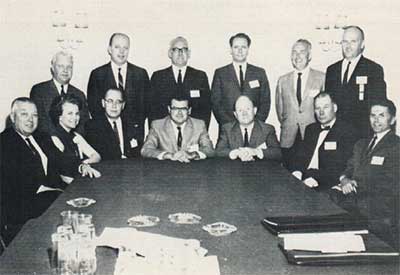 October 9, 2020
The directors must have been concerned with the possibility of inquiries from investigators for the federal Combines Investigation Act. In the first meeting of the year they passed their budget, which contained a sum of $900 for Combines Act – Legal Fees.
That budget showed an anticipated income of $29,000 and expenditures of $28,798. The association manager's salary was shown as being $7,500 per year. Later that year the Board raised his salary to $8,500.
In September 1966, CEDA completed the assignment of computer identification numbers (the beginning of the C.I.N. numbering system as it is today). At the time it was noted that a number of our members were already using computers.
Photo: CEDA Board of Directors (Quebec City, 1966)
Source: CEDA: Fifty Years of Service – An Historical Review of the Canadian Electrical Distributors Association, 1934 to 1984, Kerrwil Publications. Please feel free to reach out to us any time if you have great photos, historical anecdotes or perspectives. We would love to hear from you; linegoyette@kerrwil.com.