Launch of CEDA Current 1970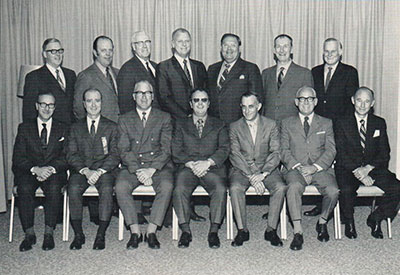 December 10, 2020
One indication of CEDA's expanding sphere of influence was the creation of CEDA Current, a trade magazine set up to promote the electrical distribution industry. A mock-up was produced and presented to the Board of Directors, with the problems of mailing lists, production costs and advertising being discussed. It was agreed the magazine was a good idea, provided it could pay its way, and plans to produce CEDA Current as a monthly publication commenced.
The first issue of CEDA Current was dated May-June 1970 and proudly proclaimed on the cover: "The beginning of a new era of cooperation and communication within the Electrical Products Industry." The opening editorial by CEDA President C. W. K. (Bob) Leroy stated: "We have a solid future insured by an expanding market, and we have the know-how to handle it… now let's get on with it!"
In his editorial, Bob Leroy noted (in part): "All future growth in Canada will require a higher percentage of electrical content (progress and electrical energy are synonymous and inseparable) and predictions of power requirements for the future are all the indications that we need… We have all the basic requirements to meet the demand… It seems to me that we know we have an expanding market and a solid future, along with the know how to handle it, what else is required?"
He went on to answer his own question: "That extra requirement is already available in the form of CEDA. Our association can provide the expertise for Effective, Efficient and Profitable management. Without these three necessities, vigorously and positively pursued, we will not generate the strength and capital for growth ahead."
The first issue also carried a directory of all CEDA members, listed by province. The December issue of CEDA Current was devoted to electric heat, with one article being headlined: "One of the biggest revenue builders on the horizon."
Seems that although the years roll on, the more things change, the more they stay the same.
What is in a name? Evidently the directors thought that the answer was "quite a lot." At any rate they officially changed the name of the Maritime Division to that of "Atlantic Division."
Source: CEDA: Fifty Years of Service – An Historical Review of the Canadian Electrical Distributors Association, 1934 to 1984, Kerrwil Publications. Please feel free to reach out to us any time if you have great photos, historical anecdotes or perspectives. We would love to hear from you; linegoyette@kerrwil.com.