How Important is Wire / Cable to Distributors?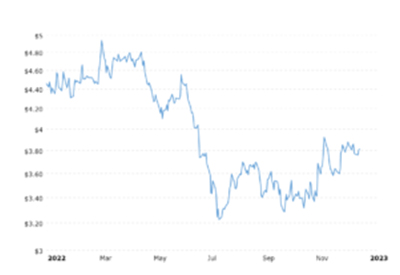 January 4, 2023
Written December 21, 2022 by David Gordon, President, Channel Marketing Group
Wire and cable is a core product category for electrical distributors. And much of it, as everyone knows, is driven by copper pricing (with aluminum consumption also influenced by the price of copper.)
Copper has experienced a wild ride in 2022. It started the year at $4.42. It reached its height on March 4th at $4.94 and its bottom at $3.24 on July 13th.
Yesterday it was at $3.82.
So, from the beginning of the year till yesterday it has dropped 60 cents … or 16%.
But long-term predictions are for a copper shortage due to demand outpacing supply with much of the demand being driven first by the electric vehicle emergence and eventually by a power grid modernization (some of which will be jump started by the Infrastructure Bill.)
Copper's price change feels more significant as the price of copper on January 5, 2021, was $3.61 (20 cents higher today.)
So, with copper, what goes up seems to come down (at least for now.)
Copper remains a key product category for distributors. For many, it is their largest product category … responsible for the most sales.
A few years ago we surveyed distributors to understand how important the category is overall and segmented by key products within the wire / cable category.
With the change and with supply chain issues, distributors, we're seeking your input to update our findings.
Distributors, we need 2 minutes of your time and are asking:
What percent of your overall sales are wire / cable?
What percent is specific types of wire / cable?
What percent of your wire / cable business is aluminum?
And what differentiates a wire / cable manufacturer to you?
This input will help a key industry supplier (probably one that currently sells to you) better understand their customer base.
In appreciation of your support, distributor respondents can receive a free copy of key results.
All input is confidential, and information will be aggregated to determine an average industry percentage.