HomeZero Collective Pilot Project in B.C.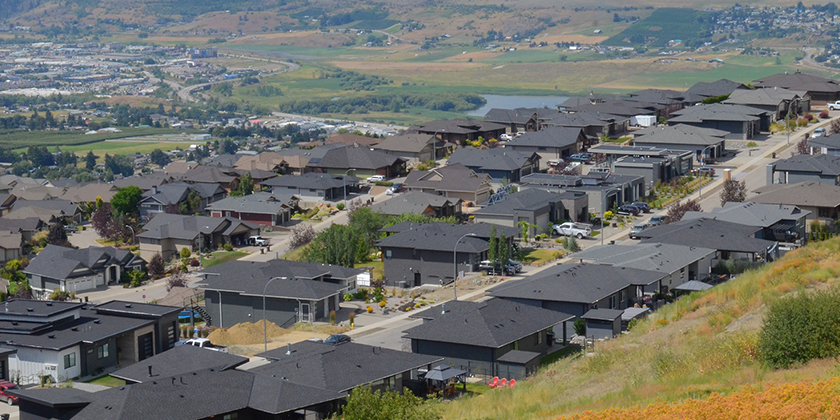 August 9, 2023
Through the Green Municipal Fund's (GMF) Community Efficiency Financing (CEF) program, Jonathan Wilkinson, Minister of Natural Resources, and FCM President Scott Pearce announced an investment of up to $500,000 to support HomeZero Collective Society's home retrofitting pilot project in the City of Vernon, B.C.
The project focuses on retrofitting 10 to 15 homes within Vernon, using lessons learned from a previously funded GMF study which looked at incentivizing whole neighbourhoods to participate in a home energy retrofitting financing program.
As part of the pilot project, the retrofit measures are expected to reduce home emissions by 85 to 99% thanks to the installation of geothermal or air source heat pumps, solar PV, hybrid electric hot water systems, and electric vehicle charging outlets. Performance monitoring systems will also be installed to show energy and emissions reductions to homeowners.
"It is critical for us to work together to address the ongoing challenges of the climate change crisis. Municipalities across Canada are doing their part with innovative solutions that are creating jobs and building climate-resilient communities. Through projects like the HomeZero Collective Society's home retrofitting pilot project in the city of Vernon, B.C., we are helping Canadians switch to sustainable practices and make their homes more energy-efficient. Green infrastructure investments in Canadian communities will also make our air cleaner and our economy stronger, and will set us on the path to a net-zero future."– The Honourable Steven Guilbeault, Minister of Environment and Climate Change
If successful, the pilot could be scaled up to include more homes and neighbourhoods and could act as a roadmap for other communities.
GMF, administered by FCM, is funded through an endowment by the Government of Canada. GMF helps local governments switch to sustainable practices faster. Its unique mix of funding, resources and training gives municipalities the tools they need to build resiliency and reduce greenhouse gas emissions.
CEF is one of the ways GMF continues to build on its 20-year record of supporting transformative environmental initiatives at the community level. CEF helps communities by providing capital to homeowners to make their homes more energy-efficient while creating local jobs and keeping the economy moving.
Go HERE for more information on the pilot project
Associated links
Federation of Canadian Municipalities
Green Municipal Fund
2030 Emissions Reduction Plan: Clean Air, Strong Economy
HomeZero Collective Society