Electrozad Announces Retirement of Sales Representative Chris Farrah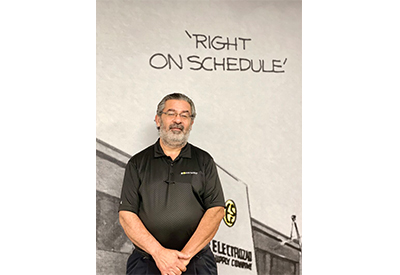 August 4, 2022
Electrozad have recently announced the retirement of Sales Representative Chris Farrah, on July 29th, 2022.
Chris began his career with Electrozad on February 20th, 1983. His first position was doing deliveries as a truck driver, then advanced to a warehouse position, then a Customer service/Counter sales representative. Finally in 1991, Chris was promoted to the position of Sales Representative where he continued to excel and increase his relationships with customers and vendors for the remainder of his career.
Chris had been a valuable member not only of Electrozad's business but of the Electrozad family too. He planned many social activities including Christmas parties, baseball, bowling, football and golf outings, as well as the Electrozad trade shows, customer events and appreciation days. Chris said this is what helped him feel part of the Electrozad Family making it very difficult to say goodbye to working with them all but feels that it is his time to move into the retirement chapter of his life.
"It has been a great pleasure and honour to be a part of the Electrozad family and company. Thank you for taking a chance on me years ago! I've enjoyed some great successes over the years, but I couldn't have done it without the great team I was able to work with at the office and warehouse".–Chris Farrah
For more information, visit HERE.