Electrical Distributors' Digital Transformation Journey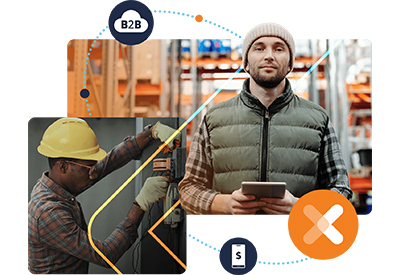 By David Gordon, President, Channel Marketing Group
COVID accelerated many distributors', and manufacturers', interest in investing in technology. Coincidentally, just before COVID, NAED released it's Building a Connected Business report and NEMRA released its Rep of the Future report (if you are a manufacturer or a rep and your company is a NEMRA member, the report is free.) Technology was becoming "front and center".
So, we've "evolved" from COVID and are in the "new normal". The taste of technology, coupled with interest in eCommerce (search and buying) as well as automating processes given staffing challenges (and the horizon doesn't look promising) has further piqued interest.
At the NAED SouthCentral there were a number of technology companies present. Many also attended IDEA's eBiz. Some also attended the NAED Annual. And at the NAED Annual, one of the panel sessions was devoted to upcoming NAED initiatives to continue to bring technology to the forefront.
And then, in the past two weeks I've had a number of companies focused on rebates, SPA management, pricing and CRM reach out. Some focused on manufacturers, some on distributors. Interestingly they all talk about "decreasing margins" and how if companies spend money on their technology they'll increase profitability (which then begs the question of what % of sales should a company spend, in its entirety, on technology? But that is for another day!)
Okay … the point. There are many areas to invest to offer new services, improve accuracy and improve productivity. Much of it should be done. Theoretically, if you did it all you'd be "transforming" your business. Reality is that you cannot do it all, especially at the same time, so this is really digital evolution. You need a roadmap (a strategy) for different parts of your business and you need to prioritize investments based upon a number of factors. This isn't a wish list. It's evaluating the current business, your business goals / vision / strategy and then prioritize because you need to first evaluate your infrastructure and seek "low hanging fruit." You need some "wins" to generate confidence and an ROI.
In reality, technology is a process, and product, disruptor.
There is a "technology stack" that distributors, reps and manufacturers should aspire to. Not all are for everyone because it needs to correlate to your vision (NEMRA's Strategic Advisory Council is working on this for reps).
With this, I was recently speaking with Kathleen Lewarchick, VP Marketing for xNgage. I had met her at the NAED SouthCentral and here company also attended IDEA's e-Biz conference. Kathleen has worked in, and written, about B2B ecommerce for over a decade, helping distributors like Amazon Business and EIS, as well as manufacturers like PURELL Hand Sanitizer and Moen, through digital transformations and innovation growth opportunities. I was seeking to get more acquainted with her company. Additionally, I had a distributor call and ask about PIM consultants and wanted to learn more about their services. We then started taking about "digital transformation" in distribution, so I offered her the opportunity to be a guest columnist.
Digital Transformation Strategically Important for Long-Term Success
"At the recent NAED national meeting, leaders declared the strategic importance of digital transformations for long-term success. Why? Buyer trends show that electrical customers value online services and they also want to research and buy in different ways. Seller trends show that comprehensive websites enable buyers to self-serve, freeing up your salesforce to drive more business value. And technology trends show that procurement systems are getting smarter and increasingly automated.
Research on electrical buyers shows that "anytime self-service" (like invoice management, freight tracking, and skills training) can help buyers get jobs done on their own, which lets your salespeople focus on more complicated issues. When those simple online services are successful, trust is built, and then buyers and sellers can collaborate on more complex and high-value topics, like vendor-managed inventory and configure-price-quote capabilities.
For buyers, self-service is also great when coupled with predictive buying. For example, repeat orders can be pulled into customized order guides to save time with purchasing. But these guides also make it easier for your sales team to merchandise solutions that create add-on sales. And if those repeat orders are cyclical, they can also be integrated into online services like auto-replenishment so that product arrives consistently when and where it is needed. The benefit is ongoing, planned sales.
But in this era of supply chain calisthenics, isn't an inside sales agent more effective at securing those hard-to-find items? Only sometimes. More often manufacturing and distribution rely on a "smart model" that uses deep and wide data sets to assign resources and optimize supply and demand.
It can be daunting to think about digital transformations. But the companies that ask themselves these four questions are aware of the buyer, seller, and technology trends, and are already on the journey:
As buying patterns change, what is the cost to my business if I don't further the digital journey?
How do my customers use my website today and how would they like to use it in the future?
How can I optimize value for both my buyers AND my sellers (including customer service?)
Can we create competitive advantage with digital to both increase sales and decrease costs?

Some Digital Transformation Examples
In each of the scenarios below we show how electrical buyers and sellers are leveraging digital transformations today … and in some cases other channels.
Contractor A buys from online retailers like Home Depot and Amazon as well as MRO distributors like Fastenal and McMasterCarr, and buys occasionally or buys heavily in specific categories
Contractor B buys online and through salespeople checking selection, pricing and availability of a specific category and is rewarded for same-day delivery if they meet a specific online basket size
Industrial Buyer A buys from Grainger.com and Automation Direct and uses these sites to check prices, download spec sheets, and perform product research
Industrial Buyer B uses one-stop services with a trusted online partner (you?) places one order to many locations, checks delivery details, and pays for the management of real-time inventory
Digital transformations can feel like a leap, but if planned wisely can create sustained value. And with the trends all heading toward digital integration, there's no better time to make and accelerate your plan."
Takeaways
A key component of this journey is keeping the customer in mind. If you are a manufacturer, you have 3-5 different types of customers to consider. Distributors have similar as they should be considering up-channel and down-channel.
Like anything, it all starts with a plan. Don't like the term "transformation" scare you. It will be an evolution, but every company needs to be somewhere on the journey.
And recognize it is a journey because an investment in technology is analogous to investing into a boat.
There are two adages regarding boats:
You never stop investing into a boat once you buy it.
The two best days of a boat owner are when they buy a boat … and when they sell a boat. Everything in between involves moments of joy, moments of frustration and regular investments.
And if you're interested in what BOAT, here's some definitions:
Bust Out Another Thousand– slang describing how expensive boating can be.
Break Out Another Thousand– slang describing how expensive boating can be.