EFC Scholarship Program Application Deadline May 31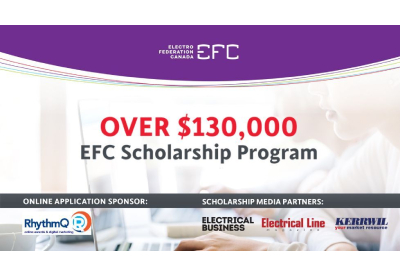 May 6, 2021
Electro-Federation Canada (EFC) and its members are proud to support the next generation of leaders who will power a changing world in the Canadian Electrical industry. This industry is made up of inventors, creators and visionaries who are creating new approaches to how electrical products are used by Canadians at home, work and play. View this video to learn more about the industry.
The EFC Scholarship program provides post-secondary students who are interested in pursuing a career in the Electrical industry, with funding to support their academics.
If you're a post-secondary student who is pursuing a career in Electrical Engineering, Electrical Technologist/Technician, Industrial Distribution, Sales, Marketing, Finance, Human Resources, Supply Chain/Operations, Logistics, Data Analytics Management or Information Technology – then consider a career in an industry that is committed to a safer, more environmentally-sustainable future for Canadians. Take the first step by applying for up to three scholarships now!
Scholarships
Explore 52 scholarship opportunities available through this program and apply for your future today! View all available scholarships. Scholarship recipients will be announced in Fall 2021.
Eligibility
All applicants are Canadian citizens or permanent residents who have completed their first year of a recognized university or college in Canada, have maintained a minimum 75% average* and be registered in a full-time 2021 eligible post-secondary degree or diploma program. Students must be enrolled in their program and attending school in Fall 2021/Winter 2022 semesters. Applicants may apply for a total of only three scholarships. Please review specific criteria for each of the EFC member sponsored scholarships. In addition, EFC will be awarding 12 $1,000 EFC University & College scholarships from all applicants.
For all scholarships, preference will be given to those applicants with a connection to an EFC member company (http://www.electrofed.com/members/) and who are pursuing post-secondary education in a discipline which targets a career in the Electrical industry, such as Electrical Engineering, Electrical Technologist, Electrical Technician, Industrial Distribution, Sales, Marketing, Finance, Human Resources, Management Operations, Logistics and Information Technology.