EFC Introduces New Industry Web Portal: Online Safety Guide for Electrical Products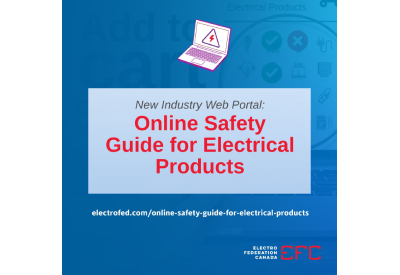 May 25, 2021
Electro-Federation Canada (EFC) represents electrical and automation manufacturers, distributors and sales agents, who together with EFC, are committed to advancing electrical safety in Canada. EFC has partnered with provincial regulators, certification agencies, the Standards Council of Canada (SCC) and other safety partners to develop an industry web portal
to educate consumers and electrical customers about:
what to look for when purchasing electrical products online (safety checklist)
which electrical products require certification?
what certification marks are used for electrical products in Canada?
what do the certification marks look like?
how to report unmarked, uncertified electrical products
Before you add to cart…check for the certification mark!
The industry web portal shares important safety tips that buyers must be mindful of when adding electrical products to their online shopping carts – including checking for certification marks and labels, and purchasing from trusted sources such as authorized electrical distributors.
The electrical community is committed to championing safety – and this extends to online electrical safety by providing customers with key resources to make informed decisions about their online electrical product purchases. Share this industry web portal with consumers and electrical customers so they are aware of important safety guidelines when purchasing electrical products online.
Click here to access the Online Safety Guide for Electrical Products portal
EFC wishes to thank industry partners from the Canadian Advisory Council on Electrical Safety (CACES) for their thought leadership and support in developing the web portal and resources.
Go HERE for more information