eCommerce … More than Clicks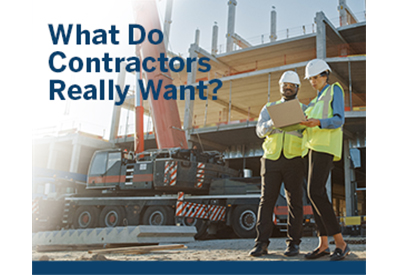 August 17, 2022
By David Gordon, President, Channel Marketing Group
For years we've talked that eCommerce is more than trying to get people to buy via a website, especially when over 40% of total electrical purchases are via contractors with about 30-40% of this business being projects. And the industrial segment is divided between OEM and MRO buyers. So, there are different customer dynamics, let alone buyer personas, for distributors to consider.
In the words of a manufacturer who is relatively new to the industry, "this is a complicated industry."
We've touched on digital transformation and the role that data can play (and have more "digital" insights coming) but I thought we'd touch base with Meredith Olsen, Sr. Product Marketing Manager at Trimble to see what they see from their contractor network and what they are working on.
Trimble, as you'll recall, acquired Trade Service, the industry's main product and pricing information provider for hundreds of distributors (and thousands of locations) as well as thousands of contractors approximately five years ago. Then, and now, essentially every medium and large contractor in the US is using some Trimble product.
This gives them good insights into the contractor's market.
Meredith shared what Trimble is doing and she shared input from some of their key people.
Redefining eCommerce based on buyer behavior
"What does eCommerce for electrical distribution look like to you? Many distributors would likely say their online storefront where contractor customers come to place orders and conduct product research. If you're one of them, you're correct. But there may be more to it…
For Trimble, eCommerce is defined more broadly as a digital exchange that provides a fast and convenient way of communicating and transferring information between multiple parties. Contractor buying behavior has been transforming the purchasing landscape now for years through the convenience of various eCommerce exchanges like a distributor's webstore and they have come to expect fast and easy transactions. What many distributors don't know is that there are multiple options for receiving quotes and orders digitally from their customers through these "eCommerce exchanges".
A prime example is from a marketplace like Home Depot and Amazon, which have been wildly successful for a segment of the contractor space, especially small residential contractors. These particular marketplaces, however, aren't well structured to support the majority of commercial contractors' purchasing needs today, so we won't stop there.
Trimble is now bringing distributors the option to participate in an "eCommerce exchange" for transacting on commercial contractor projects. Jon Huizenga, formerly of Graybar, joined Trimble as its Technical Supply Chain Integration Manager. I asked Jon what Trimble is doing in this area and what it can mean for distributors.
"We know, from talking to our customers, that contractors are looking to streamline their communication with distributors (and this correlates with research that Channel Marketing Group has conducted on how contractor buyer behaviors are changing) and is a great place to start when looking for an exchange with access to buyers and to become a seller."
Jon points out that access to buyers isn't an easy feat, but something Trimble has solved
with their Supplier Xchange network that supports over 10,000 electrical distributor and contractor connections today, with over 2000 electrical distributor branches participating and connected with 6000 electrical contractor users. Trimble's electrical estimating ecosystem is even greater with over 10,000 Accubid estimating users with access to Supplier Xchange alone! In total, Trimble sees about $17 billion in quotes being transacted on the platform on average a month.
"These connections create a "digital link" between a distributor and their existing contractor customers. They're both signing up for a digital exchange of real-time pricing on every day and job-level items, from which the contractor buyer can reliably submit orders––in an online environment. It's a win-win and why Trimble has so many participants today on both sides."
This has previously been a serious challenge (dare we say inhibitor) in the industry until now. "I worked with Trade Service as a customer for years before joining Trimble, and started ideating long ago, like many in the industry still, I'm sure, about creating a fully-connected digital supply chain. We had data, but no connected systems. Now Trimble has both through Supplier Xchange––and the data is much more accessible through cloud-service technologies," said Huizenga. "Supplier Xchange is designed to solve for the pricing and ordering of construction materials. A process that is still highly manual and error-prone for many distributors and their customers. I'm excited this day is finally here."
Jon lamented that, unfortunately, not enough distributors are aware of the opportunity and hence is hosting a webinar on Tuesday, August 16th, Automate Manual Sales Order Processing with Supplier Xchange Pro from 11:30-12:30 PDT. Register here. "
Takeaway
A couple of thoughts:
Trimble's reach within the contractor community is extensive. If 6,000 electrical contractors are using Supplier Xchange and $17 billion are being quoted monthly through the system, if I was a distributor, I'd want to learn more.
Research Channel Marketing Group has conducted with contractors indicates that they want "system to system" connectivity to improve their efficiency, ensure accuracy and reduce their costs. They don't view that "searching a site and data entry" should be their job … especially larger contractors.
If you have the time available, you should be on this webinar. If you are booked, assign someone from your team to attend the session and take good notes or, worst case, sign up so that Trimble can send you the recording.
Trimble is more than electrical solutions for distributors. They also offer a robust suite of solutions for contractors. Why is this important for distributors and manufacturers? This provides you insight into what is important to your customers … you may be surprised. I'd recommend clicking here for some contractor insights.