Canadian Tuition Fees for 2019/20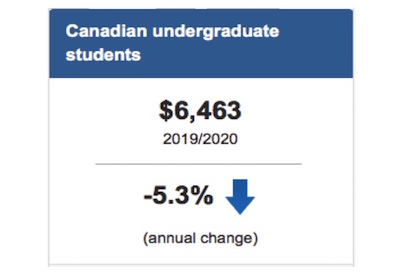 Sept 11, 2019
Canadian undergraduate and graduate students in Ontario will pay lower tuition fees in the 2019/2020 academic year compared with a year earlier, while students across the rest of the country will either pay the same tuition fees as last year or more. International student tuition fees were up 7.6% at the undergraduate level and up 4.4% at the graduate level.
The actual cost that students pay for degree programs varies depending on the grants and financial assistance they may receive.
Tuition fees decrease for Canadian undergraduate and graduate students in Ontario
Nationally, students enrolled full time in undergraduate programs will pay, on average, $6,463 in 2019/2020, down 5.3% from the previous year. The average cost for graduate programs will decline 4.5% to $7,056.
Average tuition fees reflect both the variety of degree programs offered by institutions and the proportion of students enrolled in these programs. As a result, even if there are no changes in specific program tuition fees, the average tuition could change if new programs are added or if the distribution of students across programs changes.
The results of the Tuition and Living Accommodation Costs survey do not necessarily reflect the actual cost that students pay for their degree programs. Students may receive financial support, such as scholarships, bursaries, government grants and tax credits, which can vary across institutions and provinces.
Undergraduate and graduate average tuition fees decreased for Canadian students in Ontario, reflecting a cut in tuition fees by the provincial government for publicly funded postsecondary institutions across the province, beginning in 2019/2020. Tuition fees for undergraduate programs declined 9.9% in Ontario, while fees for graduate students decreased by 9.1%.
Conversely, tuition fees for undergraduate programs were unchanged in Alberta, while they rose in eight provinces and Yukon. The increases ranged from 2.0% in Prince Edward Island and British Columbia to 8.5% in Yukon. The increase in Yukon was attributable to higher costs per course in the single degree program offered at Yukon College.
Graduate tuition fees for Canadian students were unchanged in Newfoundland and Labrador, but rose in the nine remaining provinces, with increases ranging from 1.3% in British Columbia to 4.1% in Saskatchewan.
Highest average undergraduate tuition fees are in four professional degree programs
Source: Statistics Canada, www150.statcan.gc.ca/n1/daily-quotidien/190904/dq190904b-eng.htm