Bartle & Gibson Expanding Edmonton Distribution Centre Warehouse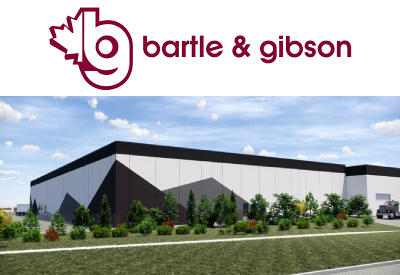 Oct 1, 2020
Bartle & Gibson Co. Ltd. is proud to announce that the warehouse space at their head office distribution centre in Edmonton at 13475 Fort Road NW is being expanded with an additional building. Utilization of the additional 40,000 sq. ft of warehouse space will begin in November 2020.
The Edmonton Fort Road location will have:
A total footprint of 8.5 acres
100,000 sq. ft of total warehouse space
Expanded and paved yard space
7 new loading docks for shipping and receiving accessible from 54th Street
1 loading bay at 14 ft wide to accommodate shipments of larger pipe
Customer specific loading docks accessible from 134a Ave NW
In order to best serve their customers, they will be making improvements to their receiving and shipping processes, such as utilizing the increase of staging area space for more efficient movement of shipments. Moving the shipping and receiving to the new warehouse will also reduce the amount of delivery traffic compared to customer traffic at the parts sales counter. When construction is completed all semi-trucks will have to approach the warehouse on the East side of the building via 54th Street, instead of turning onto 134a Ave.
Please note that while construction of the new additional warehouse is being finalized business is operating as usual at the Edmonton Fort Road location.
Should you have any questions please contact Reg Wong, Senior Vice President Northern Prairies, at reg.wong@bartlegibson.com.