AD Member Sales Up a Record 30% in First Six Months of 2021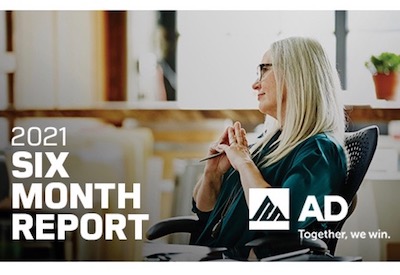 Aug 3, 2021
AD reports member sales in the first six months of 2021 were US$28.1 billion, an increase of 30% across its 13 divisions and three countries, Canada, the U.S. and Mexico. Same-store sales were up 17%. Purchases by member companies from AD supplier partners were up 34%. Net distributions to its members were up 37%.
"The exceptionally strong results we're experiencing in the first half of 2021 are setting the stage for a record-breaking year," says AD's Chairman and CEO Bill Weisberg. "When we see growth in member purchases from AD suppliers outpacing total sales, it serves as a powerful indicator that our community of members and supplier partners finds great value from preferentially supporting each other."
Since AD was founded in 1981, hundreds of independents and leading manufacturers have joined the organization to achieve accelerated growth, increased profitability and insure their continued independence; https://adhq.com/.